I have blogged previously about the
representation of young people in the media
and the ways in which young people construct a sense of collective identity.
Last time I posted the link to Dave Harrison's
excellent resource
about representations of youth.
It is important to always be on the lookout for new examples of media texts to consider and this topic is no exception. Two documentaries with different approaches could prove useful. One is 'Teenage', due out next month, which takes an historical look at the whole concept of the teenager, including archive clips from before the Second World War. The synopsis sounds interesting:
"Narrated by actors Jena Malone, Ben Whishaw, Julia Hummer and Jessie Usher, director Matt Wolf's compelling collage is crafted from archival material, Super-8 recreations and diaries of actual mid-century teenagers, all set to a post-punk contemporary soundtrack. The result is an unconventional pop historical film about the birth of the iconic, eternally cool figure of the teenager".
The trailer is on Empire's site and you can view it here
By contrast, British director Beeban Kidron's film 'In Real Life' looks at young people now. Shown on Sky late last year, the film has also had a limited cinema release and is now out on DVD. It has a dedicated website and has had quite a bit of press coverage here, given its subject matter, which is young people's use of the internet. Described by The Times as
"A shock-doc on the effect of incessant internet use on the malleable, still-growing teenage mind", the film pretty clearly wades into territory that tends to pathologise young people as victims of the media, so is well worth analysis. Here's the trailer:
This 'concerned' view of young people contrasts strongly with a fictional view in the upcoming 'Gone Too Far', set in Peckham, South London. Originally a stageplay by Bola Agbaje, the film, directed by Destiny Ekaragha, is a comedy drama about a boy who is embarrassed by his older brother arriving from Nigeria. It is much more than that, however, since it not only features an almost exclusively black British cast, but just for a change, avoids the tendency to turn young black British boys into criminals.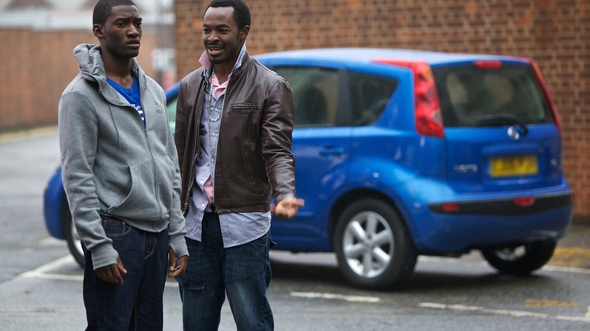 The film builds upon Destiny's earlier short films set in South London, notably 'Tight Jeans', which won best short film at the 2008 London Film Festival:
As I have suggested previously, there is no single 'media representation' of youth; there may be dominant representations, such as the very negative coverage of boys in UK news stories which content analysis has shown, but across films, tv, fiction and documentary there are significant differences and nuances which need to be teased out- to say nothing of the ways in which young people represent themselves in social media, which perhaps has a far greater degree of complexity than 'In Real Life' suggests.
In any essay you write on the topic, this complexity should be reflected, both in your arguments and in your examples. Maybe start with the films here......